Congrats to @eddunnahoe for his awesome winning entry to the BSidesLV Logo Contest!
Thank you to all who participated and shared their art!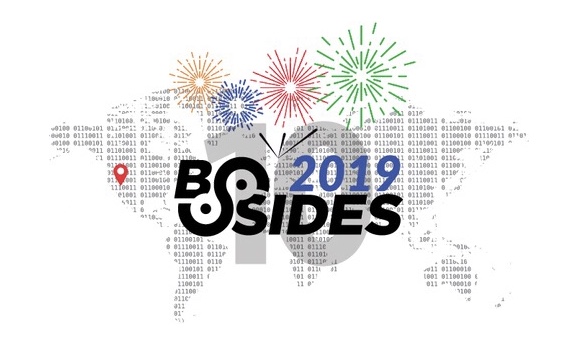 We're changing things up AGAIN this year! We're giving our aspiring artists a starting point!
This year's theme is all about the GLOBAL BSIDES MOVEMENT.
This year we are celebrating the 10th anniversary of the global Security BSides movement. From a small gathering in Las Vegas put together to give a venue to talks rejected by the larger conferences taking place that week to a global movement of conferences big and small all over the world, Security BSides has become a stand-alone leader in community-lead and volunteer organized Information Security events. This year's theme celebrates the people everywhere who have worked so hard to create an environment for collaboration and mentorship, who have given career guidance, and who have inspired folks at every level of interest and experience to join the community.
Questions for you:
Are you possessing SKILLZ in graphic design/manipulation?
Do you have a need for a badge for BSidesLV 2019 (or know someone who does)?
Do you want the adulation of your infosec peers and the BSides Community?
If one or more of the above items applies to you or someone you know, pay attention:
Submit your entries to the BSidesLV 2019 Logo Contest!
We have a FABULOUS PRIZE for the winning submission. The winner will receive the following:
ONE (1) ROCK Donor Badge,
ONE (1) Limited Edition "BSidesLV" T-Shirt,
5 raffle tickets
+1 for the BSidesLV after party on Wednesday night
4-pack of meal tickets
Three night stay at Tuscany Casino, August 5th, 6th and 7th. (Double or single occupancy OK)
SUBMIT: Your THEME based entry via email to slogo@bsideslv.org (yes, that is SLOGO@)
INCLUDE: LOGO entry and Name/Handle info
DEADLINE: 1159PM (Pacific) April 22, 2019 (GMT -8).
FORMAT: See Logo Design Requirements Below ß THIS IS IMPORTANT!
Winners will be announced on May 2, 2019
Logo Design Requirements (THE IMPORTANT STUFF!!!!)
Logo submissions must meet the following requirements:
Vector-based graphic. Acceptable file formats: EPS, AI, and SVG. NOTE: Not all EPS or AI files are vector-based; it is possible for them to contain pixel-based (raster) graphics, which will not be accepted.
Maximum of four specific colors, which can be separated out for ink colors on t-shirts. Please do not use gradients.
Graphic can be turned into a single-color (black-and-white) graphic without losing any details.
Fine details must not be too small; must be legible and hold up at small sizes.
You may use the generic BSides logo, which you can download as a vector graphic (EPS).
What are Vectors?
Vector, vector, vector. You must submit your logo design as a vector-based format to be considered for the 2019 BSides Las Vegas winning logo.
WHAT? Vector graphics can be scaled to any size and exported to any format. Because they are made of points, lines, and curves, vector graphics retain full image quality at any size. Also, colors used in vector graphics can be altered to suit a spectrum of production needs. Raster graphics (such as JPG or PNG), are made of a finite number of pixels and will be rejected due to their inflexibility.
WHY? Due to the variety of sponsored swag and printed ephemera at BSides Las Vegas, the winning logo requires the flexibility to print in single-color (on tchotchkes), multiple ink separations (on t-shirts), as large as a billboard, and as tiny as a thumbnail. We want your logo design to look professional in all of the many ways it will be seen.
QUESTIONS: If you have questions about file formats or where to begin, please feel free to ask our staff graphics professional, @1dark0ne, at design@bsideslv.org.
This page last updated May 3, 2019