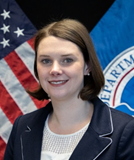 Kathleen Trimble
Ms. Trimble is the section chief of the Vulnerability Management and Coordination section in the NCCIC. Previous to this position, she served as the Senior Communications Sector analyst in the DHS Office of Cyber and Infrastructure Analysis (OCIA), where she operated as the focal point for efforts related to wired communications between interagency government partners, DHS components, and private industry in response to National Security Council requirements.
Ms. Trimble started her career as an intelligence analyst with the United States Air Force, specializing in counterinsurgency, antiterrorism/force protection, counter explosive devices and communications systems. She served multiple tours in the Middle East embedded with the US Army, conducting analysis of the threat environment as well as physical vulnerability threat assessments alongside security personnel. Ms. Trimble transitioned to civilian focused on disruption of insurgent networks in Eastern and South Western Afghanistan. Prior to joining DHS, Ms. Trimble served as a Counter Explosive Device Analyst at the Joint IED Defeat Organization and as a Red Cell Threat Intelligence Analyst for the Defense Threat Reduction Agency.
Ms. Trimble holds a Bachelors of Arts in International Relations & Global Studies from Antioch University Seattle.